The Semco® Model 285-A Semkit® package mixer assists in mixing filled Semkit packages which are used for storing, mixing and applying multi-component adhesives, sealants, and other materials. The drive spindle rotates the mixing rod while the operator strokes the cartridge vertically, permitting the rotating dasher to thoroughly mix the materials. The bell timer alerts the operator when the mix cycle is completed.
Use of the mixer will reduce worker fatigue, thereby assuring a more consistent, uniform mix kit to kit. The mixer weighs less than ten pounds and is easily portable. The timer can be set for a maximum of 5 minutes. The high torque gear motor is made of heavy duty construction to withstand the rigors of industrial use. Operating instructions are permanently marked on the mixer. The electrical operating requirements are 115 VAC, 60 cycle, 1 phase, 1.5 amps. The mixer is also equipped with an in-line safety fuse. Model 285-A Semkit Mixers are in stock
Features
Easy to operate.
Provides a consistent, uniform mix.
Reduces time and effort for a thorough mix.
Portable.
Bell timer signals completion of mix.
Operates on 115 VAC.
Mixes 2.5, 6, 8, 20 oz. and 1/10 gallon Semkit packages.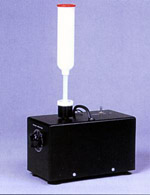 Technical Data Sheet (pdf) on the Semkit
Semco p/n: 229340
For more information about these products contact Bergdahl Associates, Inc.