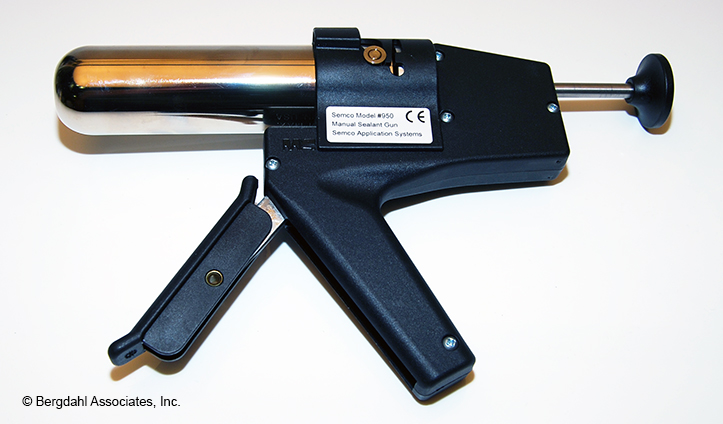 The Semco model 950 sealant gun is a hand operated, very high quality dispensing gun designed to accept Semco disposable cartridges and Semkit packages.
This gun is excellent for the application of sealants, adhesives and other materials in remote areas where no air supply is available, this includes field repair applications. The smooth stroking ergonomic handle is made of an engineered plastic for tough, durable, long term use. The dispense rod is released from pressure after every stroke to help eliminate material drooling. The bayonet locking retainer provides a tight fit into the handle permitting uninterrupted operation and allows for quick and easy replacement of cartridges.
Custom size retainers accommodate Semco 2-1/2 oz. (59cc), 6 oz. (156cc), 8 oz (214cc) and 12 oz. (310cc) disposable cartridges. The nickel plated retainers are high quality to withstand the demanding environment of an industrial work place.
| | |
| --- | --- |
| Part # | Size |
| 950255 | 59 cc (2.5 oz) |
| 950065 | 156 cc (6 oz) |
| 950085 | 214 cc (8 oz) |
| 950125 | 310 cc (12 oz) |
Portable.
Requires no air or power supply.
Available in 2-1/2, 6, 8 and 12 oz. sizes.
Ergonomic and lightweight.
Rugged, engineered plastic and metal construction.
Easy and simple to operate.
Dispenses a wide range of sealants, adhesives or other materials.
Handles thick viscous material and very thin liquids.
Model 950 2-1/2 oz. & 6 oz. guns are in stock
Shipping Details
Technical data sheet for the Model 950 manual gun.
For more information about these products contact Bergdahl Associates, Inc.