Model APN 458 Medium Pressure Sealant Gun is designed for dispensing viscous one and two part sealants. The mechanical advantage of this gun will provide approximately 400 of pounds dispensing pressure.
Materials must be packaged in either Semco® 6 ounce high-density Cartridge (P/N 220318) with Semco high density Wiper Plunger (P/N 220260) or a model 654/651 Semkit®.

Loading
The gun is designed to dispense the sealing compound from Semco high-density cartridges.
Screw the Barrel Cap onto the Barrel.
Slide the Semco Cartridge into the Barrel.
Screw the Barrel in to the gun body.
Dispensing
The gun is actuated by means of two air valve switches. One is for extending the piston and one is for retracting the piston.
To dispense, push the poppet valve on the left side of the gun assembly (viewed from the back of the gun with the air regulator pointing down). The gun will continue to dispense until the Retract poppet is pushed (this is the poppet on the right side of the gun).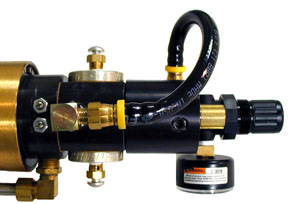 Pressure Regulator
The gun is equipped with a pressure regulator with a gauge at the incoming air source. The regulator permits adjustment of the incoming air pressure level. The orifice pressure produced is approximately 4 times the incoming air pressure.
Example: 120 PSI incoming air pressure results in 400 PSI at the orifice.
Flow Controls
Two flow control valves are built into the gun and are located just behind the air cylinder assembly. The right flow control valve (labeled Ret.) is used to control the speed at which the cylinder shaft retracts for loading. The left flow control valve (labeled Ext.) controls the speed at which the shaft extends or dispenses the material.
To increase speed, loosen locking nut and turn screw counter-clockwise. When desired setting is achieved, tighten nut to prevent setting from changing.
Setting dispensing speed faster then the material will physically flow through the nozzle could cause material to bypassing the plunger. This bypassed material can contaminate the piston rod and damage the gun.
Maintenance
Immediately after use, disconnect from air source and disassemble gun for cleaning. Remove cartridge and clean residue from barrel cap assembly.
For more information about these products contact Bergdahl Associates, Inc.