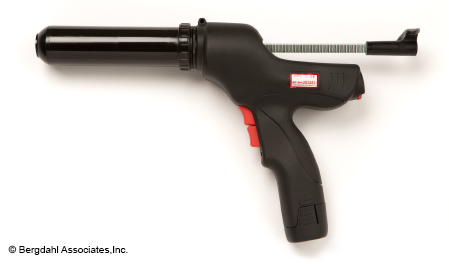 Description
The SEMCO® Model 1250 is a battery powered dispensing gun intended for the application of sealants, adhesives, potting compounds, and other materials packaged in Semco cartridges or SEMKIT® Packages. The unit is designed for usage in the aerospace and electronics industries and offers the convenience of a light-weight, powered dispensing solution without the hassle of an air hose. Each unit comes with (2) 12V lithium-ion batteries, a 2.5 oz. threaded plastic retainer, a 6 oz. threaded plastic retainer, a charger base and cord.
| | |
| --- | --- |
| Part # | Description |
| 235300 | Model #1250 US battery dispensing tool |
This is a new part number for the gun. The old part number was 235086 and has been discontinued.
Recommendations:
The Semco Model 1250 dispensing gun is designed to be used with materials packaged in Semco cartridges with a wiper plunger (WP) ONLY. Typically, pre-mixed and frozen sealants are packaged with a black P-plunger with which this gun is NOT COMPATIBLE. Aerospace sealants supplied in Semkit packages are most commonly packaged with a wiper plunger (WP), which is what this gun is specifically designed for. Additional retainers for this unit must be purchased separately
Features:
Light-Weight (less than 3 lbs)
Ergonomic design – optimizes the balance of the weight on operators' hands
Improved portability, no air hose required
60 minutes to completely charge 10.8v lithium-ion battery
Fully charged battery can dispense between 50-60 6oz Semco® cartridges
Variable dispensing speed control on rear of gun from 1 (low) to 9 (high)
2.2 (kN) stall force
Technical Data Sheet (pdf) on the Model 1250 Gun
For more information about these products contact Bergdahl Associates, Inc.