Features
Fits DEK ProFlow Direct Imaging System
Improved package Integrity and Stability
Improved Quality
Easier to Fill
Reduces Waste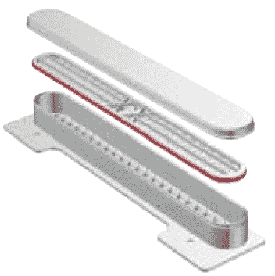 ProFlow Cassette
Manufactured under license from DEK/Novatech, PRC-DeSoto International has designed and produced the all-new ProFlow® Cassette. This product is specifically designed to be used with the DEK DirEKt Imaging™ process for screen print solder paste applications. Made from a flexible-rigid 30 percent talc-fill polypropylene, the new construction incorporates an integral transition-fit piston assembly to evenly distribute the transfer pressure from the ProFlow® heat across the paste mass. The new design offers a substantial waste reduction, is easily and quickly filled with paste, and is offered in two configurations. It includes five basic components: cassette base, aluminium foil barrier, plunger, plunger seal, and snap-fit lid.
| | |
| --- | --- |
| Part Number | Information |
| 234607 | Assembly 1 Includes: base w/foil attached, piston w/gasket assembled, cap |
| 234608 | Assembly 2 Includes: base, foil, piston w/gasket assembled, cap |
For more information about these products contact Bergdahl Associates, Inc.
We pride ourselves on providing the best possible buying process and customer service in the entire industry.
From the first phone call up to placing your first order with us, our team goes the extra mile to ensure everything is in place, so you can confidently make your purchase with us and have it delivered accurately and on time.
Contact us today so we can have the opportunity to serve you!