eOx® AeroTech 2000 Oil Tube Assembly
Oil Tube Assembly cleaned with eOx® AeroTech 2000.
Clean inside and out. By pumping eOx® AeroTech 2000 through the tubing assembly at 140°F and then rinsing, contamination is removed, and there is no stock loss or degradation of the part. Outside of the tubing was also cleaned with eOx® AeroTech 2000 in an ultrasonic bath heated to 120°F.
eOx® AeroTech 2000 is a new aqueous cleaner that is designed for cleaning turbine engine parts and conforms to ARP 1755B.
After cleaning with eOx® AeroTech 2000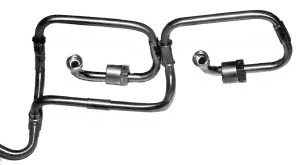 For more information about cleaning turbine accessory parts, contact Bergdahl Associates, Inc.
Bergdahl Associates is the premier distributor of Adhesives, Sealants, Dispensing Systems, and Cleaners. We represent PPG Aerospace, PRC-DeSoto International, SEMCO, and eOx® Aqueous Cleaners, RPM Technology, LLC products PolyGone & Chela Polymer strippers.
To get additional information on products, pricing, or availability, please contact us.
We pride ourselves on providing the best possible buying process and customer service in the entire industry.
From the very first phone call all the way up to placing your first order with us, our team goes the extra mile to make sure everything is in place, so you can confidently make your purchase with us and have it delivered accurately and on time.
Contact us today so we can have the opportunity to serve you!
Bergdahl Associates, Inc.
2990 Sutro Street
Reno, NV 89512-1616
Customer Service Desk:
775-323-7542
Fax Number:
775-323-7595