eOx Industrial is a full-bodied product that can be used for the same cleaning and degreasing operations as eOx Economic but has an added organic corrosion inhibitor. It protects metal surfaces for up to four weeks.
eOx Industrial is a potent all-purpose cleaner with a wide variety of uses that call for minimal corrosion protection. It substitutes for chlorinated products, organic solvents (such as aliphatic hydrocarbons, white spirits, thinner, etc.), and solvent/emulsion cleaners. All oil, grease, and filth are removed easily from surfaces with eOx Industrial.
Due to its more rapid and efficient action, it outperforms other alkaline cleaning agents in terms of performance. eOx Industrial has a fresh scent and eliminates foul odors. The antistatic property of eOx helps the surface stay clean for longer. It is free of solvents, environmentally friendly, and meets stringent local regulations. Despite having a high pH (12.8), which provides a powerful and good cleaning effect, this product does not affect metals, including aluminum, as it is inhibited for this use.
Application
Cleaning fountains, immersion or ultrasonic baths, parts washers, high-pressure cleaners, and other industrial cleaning equipment can all be done safely using eOx Industrial. This product is appropriate when a corrosion inhibitor is required to delay the development of corrosion for up to seven days.
Condition as removed from service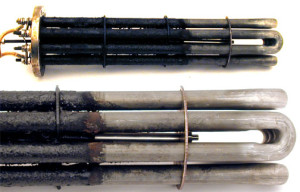 For more information about cleaning turbine accessory parts, contact Bergdahl Associates, Inc.